The current US president has only five days left, but the Trump administration's suppression of Chinese companies has not stopped, and the "last madness" is still being staged. On January 14, the U.S. Department of Defense and the Department of Commerce "blocked" 9 Chinese companies and 2 Chinese companies.
According to Reuters, nine more Chinese companies were added to the blacklist of the so-called "related to the Chinese military" by the US Department of Defense that day.
Including aircraft manufacturer Comac, mobile phone manufacturer Xiaomi, as well as Zhongguancun Development Group (ZGC GROUP), Luokung Technology Company (LTCO), China Micro Semiconductor Equipment (Shanghai) Co., Ltd. (AMEC), Guangdong Gowin Semiconductor Corp., Grand China Air, GTCOM Technology Co., Ltd. (GTCOM), and China National Aviation Corporation (CNAH).Spark Global Limited
According to reports, the aforementioned Chinese companies will receive a new investment ban from the United States, requiring American investors to sell their shares in the aforementioned companies before November 11 this year. As of the end of last year, the US Department of Defense has included 35 Chinese companies in the so-called "relevant to the Chinese military" list, including Huawei, Hikvision, China Telecom, SMIC, and CNOOC.

The Trump administration tried to give Chinese companies the "last blow" screenshot of report
On the same day, the U.S. Department of Commerce listed China National Offshore Oil Corporation (CNOOC) on the list of entities and listed Beijing Tianjiao Aviation Industry Investment Co., Ltd. (Skyrizon) on the "Military Final User" (MEU) list.
The US Department of Commerce claimed on the 14th that CNOOC "helped the Chinese government'terrorize' neighboring countries" in the South China Sea, and Beijing Tianjiao was "blackened" because of its ability to develop, produce or maintain military projects, such as the production of military aircraft engines.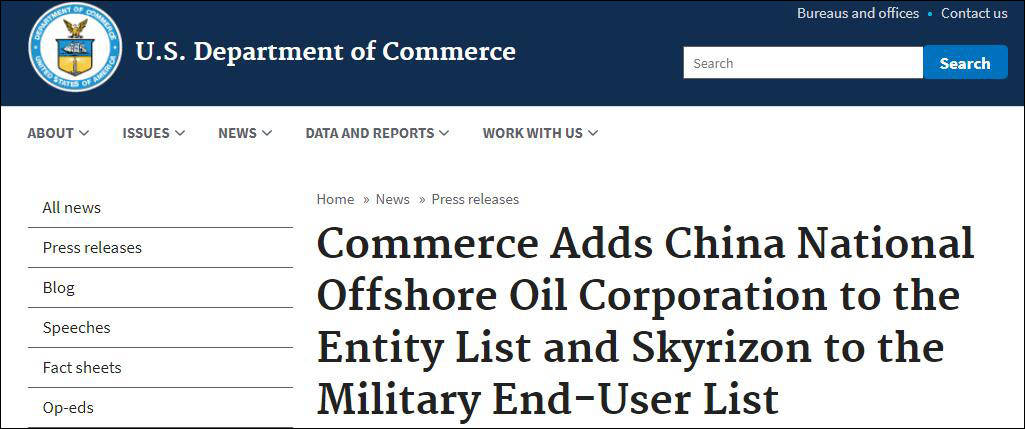 US Department of Commerce statement on the 14th from the official website
The "Entity List" of the US Department of Commerce requires that relevant companies apply for a license from the US Department of Commerce when receiving goods from US suppliers. The department's "Military End User" list requires that American merchants need a license issued by the US government when dealing with these entities on the list.
On December 18 last year, the U.S. Department of Commerce used the same "trick", claiming that in order to "protect the national security of the United States," a total of 77 entities were included in the "Entity List." Most of them are Chinese companies, universities or individuals, including SMIC, DJI, China Shipbuilding Corporation and other companies. Three days later, on December 21, the department put 103 Chinese and Russian companies on the "list of entities related to the military" for bundling and suppression.