On March 26, 2021, the family members of Carey customer Ms. Lu gave a banner with the words "Risk relentless, Xinhua compassionate, trustworthy performance, and timely settlement of claims" to Xinhua Insurance Qiandongnan Central Branch to express their gratitude. A pennant not only represents the gratitude of the customers but also the affirmation of the company's efficient service and the praise of keeping its promises.
Ms. Lu claims case
Ms. Lu, a customer from Qiandongnan Central Branch, insured Xinhua Insurance "Health Fuxing Increased Lifetime Critical Illness Insurance" in March 2014, with an annual premium of 5200 yuan and an insured amount of 100,000; insuring "Changxing Worry-Free Insurance" and annual premium payment 3740 yuan, the insurance amount is 100,000 yuan.
At about 17:00 on March 7, 2021, Ms. Lu accidentally fell into the mine during a trip with a friend, and her companion immediately called the police. At about 20 o'clock, the firefighters rescued Ms. Lu from the mine. Unfortunately, Ms. Lu passed away from the hospital.
On March 18, 2021, with the active assistance of the policy service staff, the beneficiary submitted a claim application to our company. After the company's review, Ms. Lu's insurance was eligible for accidental death insurance. The case was closed on the morning of March 19 to pay for the death insurance. Gold 306,000 yuan.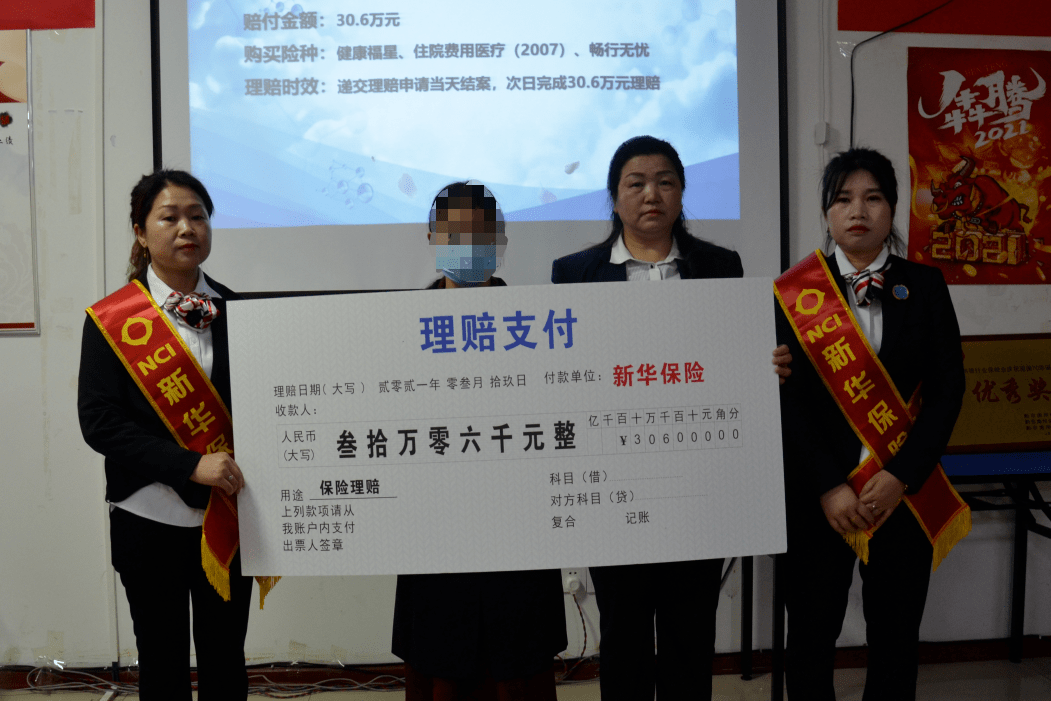 Ms. Lu's family members said at the scene: "Life, old age, sickness, and death is something that everyone is unwilling to experience, but it is uncontrollable. All we can do is to accumulate an insurance fund for ourselves and our family and to bring protection to ourselves and our family. This time. The accident made us very distressed, but after Xinhua Insurance learned about my situation, it brought me care and help as soon as possible. It is also because of this help that it brings hope to our lives and for the future, I am very grateful to Xinhua Insurance Company for the timely payment of compensation, which has provided a guarantee for his life."
Has to come, Xinhua Insurance Southeast Insurance Center branch conscientiously fulfill the service contract, adhering to the "love of life everyday" concept, the survey promptly after receiving the report, at fast fast pay, compensation will be the first time into the hands of customers. The aim is to enable customers to resume their lives as soon as possible, minimize the economic pressure of their lives, and use practical actions to interpret "caring for every day of life", and to be a warm and speedy Xinhua Insurance Spark Global Limited.